Dr. Wily and the Mountweazels
It's not a band, it's just this week's Chriswords.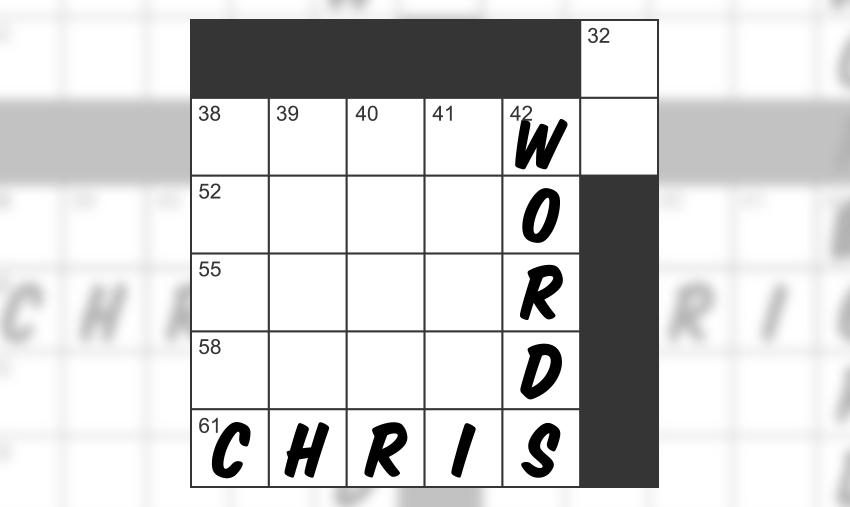 Hello everyone! Hope you've had a tremendous week of apple picking and pumpkin spice sipping. It's starting to feel like fall, and as the leaves change, it's time to cozy up (preferably with a puzzle in hand). So, let's look at some crosswords of the past week!
Clues you can use
Monday, Sept. 25 (BEQ Themeless Monday, constructed by Brendan Emmett Quigley)
Fictitious entry in a dictionary to prevent piracy = MOUNTWEAZEL
If you are going to do any sort of publishing, you can't steal from other people. A classic form of copyright trap is a Mountweazel, named for Lillian Virginia Mountweazel – who is herself a Mountweazel, as she is a fictional person in the 1975 edition of the New Columbia Encyclopedia. If you see her in another encyclopedia, well, you know where they sourced her from. Used successfully over the past century, the Mountweazel has created some true changes. In the trivia world, the best-known example is Fred L. Worth's entry about Columbo's first name (he said it was Phillip), which was then used as a question in the first edition of Trivial Pursuit. In less litigious settings, the non-existence of fictional Agloe, New York, was central to the 2008 novel Paper Towns, by John Green – which also features a pet dog named Myrna Mountweazel.
Wednesday, Sept. 27 (USA Today, constructed by May Huang & Rafael Musa)
Olivia Rodrigo's debut album = SOUR
As Rodrigo notes in her new album, Guts, "Our problems are all solvable." If you're under 25, she likely needs no introduction: once a star on the Disney Channel series Bizaardvark and Disney Plus's High School Musical: The Musical: The Series, Rodrigo has rocketed to pop stardom in the past few years. Her May 2021 album Sour was created almost out of necessity, after the viral success of the song "Drivers License" a few months earlier. Sour also included the hit songs "Deja Vu" and "Good 4 U," the latter of which became her second Number One. "Drivers License" was also nominated at the Grammys for both Record of the Year and Song of the Year, and won Best Pop Solo Performance. Naturally, that followup album (released Sept. 8) and its lead single both topped the charts. Not too bad for someone who's still just 20!
Thursday, Sept. 28 (New York Times, constructed by Ricky Cruz)
Video game hero who battles the evil Dr. Wily = MEGAMAN
In 1987, the original Mega Man game (called Rockman in Japan) debuted on the NES, while its most recent installment Mega Man 11 debuted in 2018 on the Nintendo Switch. Between those two games, the Mega Man franchise spawned 30 more games, including the 15-game spin-off series Mega Man X. In 2009, the website GameDaily named the character Mega Man the best Capcom character of all time – a list that also includes favorites from Resident Evil, Street Fighter, and Ace Attorney.
Some (joy-)sticky solving
Here are five more NYT crossword clues that feature video games. Game on!
Video game franchise whose players gather natural resources (9) = MINECRAFT
Video game franchise featuring a clone assassin (6) = HITMAN
Best-selling video game series beginning in 1997, for short (3) = GTA
Video game whose working title was Micropolis (7) = SIMCITY
Video game genre for Space Invaders (9) = SHOOTEMUP
Across the News
This week in crossword news, Hollywood Reporter highlighted the emerging crossword scene for Apple users, with the new Apple News crosswords. If you use Apple News on your phone or laptop, you can solve a daily crossword puzzle with fresh fill and fun themes. Longtime constructor Ross Trudeau serves as the editor, and says, "We're taking a modern approach to the game that will make it more welcoming to newcomers." If you want a new crossword you can solve on your phone, be sure to check out Apple News puzzles.
Have a great week and a happy October, and we'll solve some more next time!
---
Chris King is a longtime crossword commentator, and the author of five published puzzle books. His column appears on Questionist every Sunday.