Good trivia, good times.
We provide an opportunity for people to socialize and connect through entertaining trivia.
Geeks Who Drink
The format that made us famous
2 hours of engaging trivia, including audio & video rounds.

Each round format and theme is designed to maximize player entertainment.

Rated PG-13 and covering every topic under the sun- trust us.
Small Batch Trivia
Good trivia that pairs perfectly with good food, good drinks, and good times
2 hours of casual trivia, that adds to your conversation.

A focus on pop-culture that suits all ages.

Clever theming and questions, including audio & video rounds.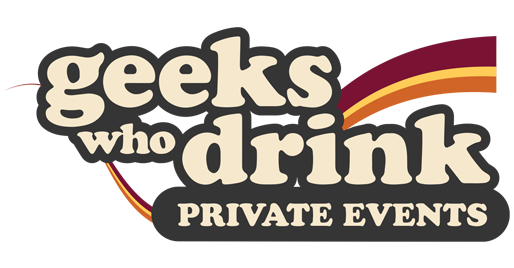 Private Events
Good trivia, good events
Customize content to your guest's interests

Host a unique team building event

Events are available live in person or virtually
Quiz for a Cause
Geeks Who Drink supports causes our community cares about
Connect with our audience through one of our weekly quizzes

Cross promote with educational literature 

Donations raised on site
House Party
Good trivia at home….or anywhere
40 questions including audio & visual rounds

Downloadable quiz to run anywhere

All you need is a PC or tablet and some friends
Our questions are what we're known for,
our trivia is current, punchy, and clever.
Quizzers will be entertained & engaged, turning your crowd from quizzers to regulars.
| The Other Guys | Geeks Who Drink |
| --- | --- |
| What new wave band did the song "Whip It"? | "Whip It" was a "pep talk for President Carter," according to the founder of what new wave band? |
| What Persian king is the bad guy in the movie "300"? | After a storm destroyed a bridge, what Persian king from "300" had the sea whipped 300 times for its insolence? |
| What element is letter U on the periodic table? | Thanks to a weird clause in the Atomic Energy Act of 1945, all New Zealand high schools are allowed to have about a pound of what radioactive element whose periodic table symbol is a single vowel? |