Parks and Pics
This week's Chriswords visits Midtown, photog history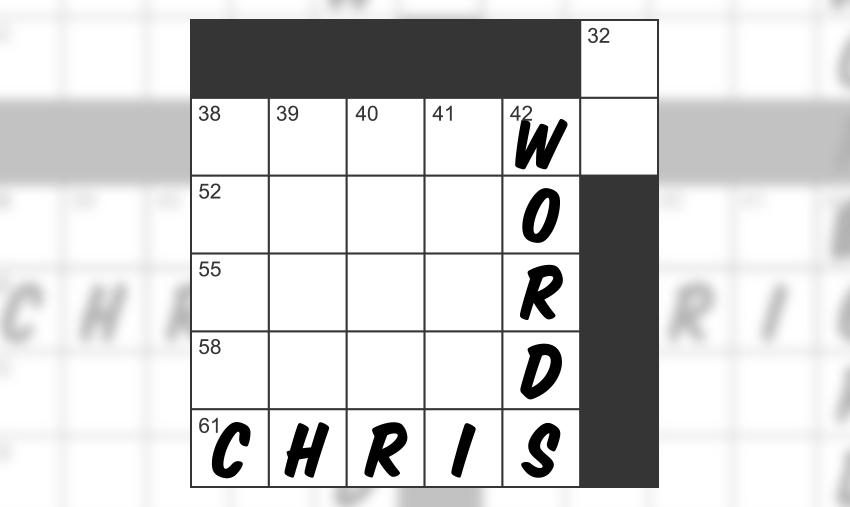 by Chris King
Hello everyone! Maybe you thought I covered everything in my first Chriswords post, but no! The crossworld keeps spinning, and we've got tons of highlights in the world of puzzles. So, let's get solving…
Crossed paths
If indoor crossword tournaments are your jam, you likely know about Lollapuzzoola in Manhattan's West Side each August. But if you like solving your puzzles al fresco, perhaps you were among the dozens of folks who enjoyed an afternoon in Midtown on Sept. 9, when Amy Goldstein and Mike Shenk hosted the fifth annual Bryant Park Crossword Tournament. Congrats to Glen Ryan, Dan Schwartz, and Ken Stern on their podium finishes – and look out for Tournament #6 in September 2024!
Clues you can use
Monday, Sept. 11 (USA Today, constructed by Kenneth Cortes)
Organization addressing gender disparity in modern education = WOMEN IN STEM
Women in STEM is a global organization dedicated to promoting gender diversity and inclusion in the fields of science, technology, engineering, and mathematics. Recognizing the historical underrepresentation of women in these careers, they strive to empower and support women pursuing these disciplines. Women in STEM offers mentorship programs, networking opportunities, and educational initiatives to bridge the gender gap. The USA Today crossword certainly pays tribute often to STEM women, including a clue in Tuesday's puzzle [Degree held by Kizzmekia Corbett = PHD], referring to a doctor who helped develop the Covid-19 vaccine.
Tuesday, Sept. 12 (New York Times, constructed by Ella Dershowitz)
Best-selling Japanese manga and anime series = NARUTO
As anime and manga become more popular in the U.S., so too does anime's appearance in The New York Times, with this young ninja making his fourth appearance in the history of the puzzle. Created by Masashi Kishimoto, the series follows the journey of Naruto Uzumaki, who dreams of becoming the Hokage, the leader of his village, despite being an outcast due to the powerful beast sealed within him. It explores themes of friendship, perseverance, and the pursuit of one's destiny. The series' success spawned a vast multimedia franchise, making its title character an iconic figure in anime history.
Wednesday, Sept. 13 (L.A. Times, constructed by Max Schlenker)
Photographer Goldin = NAN
Nan Goldin is a renowned American photographer known for her intimate and candid portraits, particularly within the LGBTQ+ community and the gritty New York City art scene of the 1970s and '80s. Her work captures raw emotions and personal moments, shedding light on marginalized communities and challenging societal norms through her art.
Some shutterbug solving
In honor of photography great Nan Goldin, here are five more clues of famous photographers often seen in crosswords.
1. "Yosemite Valley Winter" photographer Adams (5) = ANSEL
2. Baby photographer Geddes (4) = ANNE
3. Depression-era photographer Dorothea (5) = LANGE
4. Photographer Diane played by Nicole Kidman (5) = ARBUS
5. "Bandit's Roost" photographer Jacob (4) = RIIS
Orange Is the New _____ (5)
Finally, if you need help solving a Sunday NYT puzzle, have you thought about asking crossword fiend Natasha Lyonne? The Union Solidarity Coalition is supporting those affected by the writers' strike, and thanks to an auction benefiting that organization, you have the chance to solve clues with the… erm, clue solver from Peacock mystery series Poker Face. As of this writing, the current highest bid is $5,100, so get your bids in quickly!
Thanks for stumbling across this recap of a week in puzzles, and we hope you have next week's puzzles down pat! Have a great week!
---
Chris King is a longtime crossword commentator, and the author of five published puzzle books. His column appears on Questionist every Sunday.