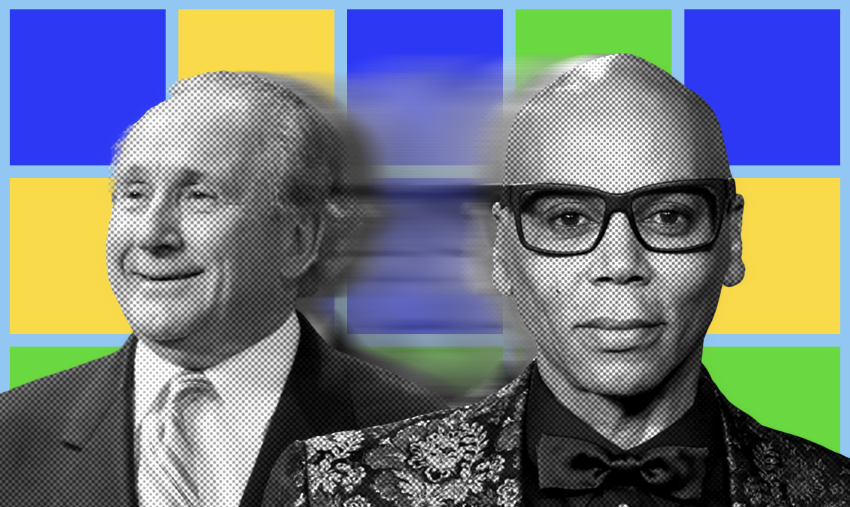 If you scroll through the program library on Paramount+, past Teen Wolf: The Movie, beyond Paw Patrol: The Movie, and through roughly 149,000 episodes of NCIS, you might eventually find the first season of Lingo. The game show, which debuted in January, involves two-contestant teams frantically shouting out letters as they try to guess a word. If that sounds a lot like Wordle, that's because it is — but more about that in a second.
The biggest difference between Wordle and Lingo is that the former just involves you screaming "COILT IS A WORD!" at your computer screen, while the latter is hosted by RuPaul. "I love games," RuPaul said during a recent appearance on The Rachael Ray Show. "Lingo is so much fun because it's the OG word game," he said. "It came a long way before these other word games."
RuPaul isn't wrong: the first version of Lingo premiered in 1987, and was hosted by Michael Reagan. (Yes, Ronald Reagan's kid. Lingo and five episodes of Falcon Crest are probably the least-cringe things he's ever done, just in general.) According to The Hollywood Reporter, on the original Lingo, the words the contestants had to guess were all randomly chosen by an Amiga computer. That show was shelved after a year, but was resurrected by The Game Show Network from 2002-2007 and for a second time in 2011.
If you've played Wordle, then Lingo will look familiar (or vice versa). The contestants are all given the first letter of a word, and they get five attempts to guess what that word is. As they try to figure it out, any correct letter in the correct place will appear green on the game board, while a correct letter in the wrong place will be yellow. (Told you.)
Since Lingo has been around since the time when Michael Reagan seemed like a "celebrity," some people were quick to wonder whether Wordle creator Josh Wardle was inspired by it. "Is Wordle just Hipster Lingo?" one person asked on Twitter. "Can someone simply rip off old game shows for app ideas," another wrote. "New app idea: Wheel of Fortune, but call it 'Prize Wheel.'"
Regardless, it's back… but if the previous attempts to Make Lingo Happen are any indication, it may not stick around for long. RuPaul is more enthusiastic about its chances. "We're all ready to have fun again," he said. "And Lingo is the answer."
---
A version of this story appeared on the news page of Questionist's parent company, Geeks Who Drink. That's just how much we love RuPaul.