Torch Song Pentalogy
There'll be five new(ish) sports at the 2028 L.A. Olympics. What the heck are they?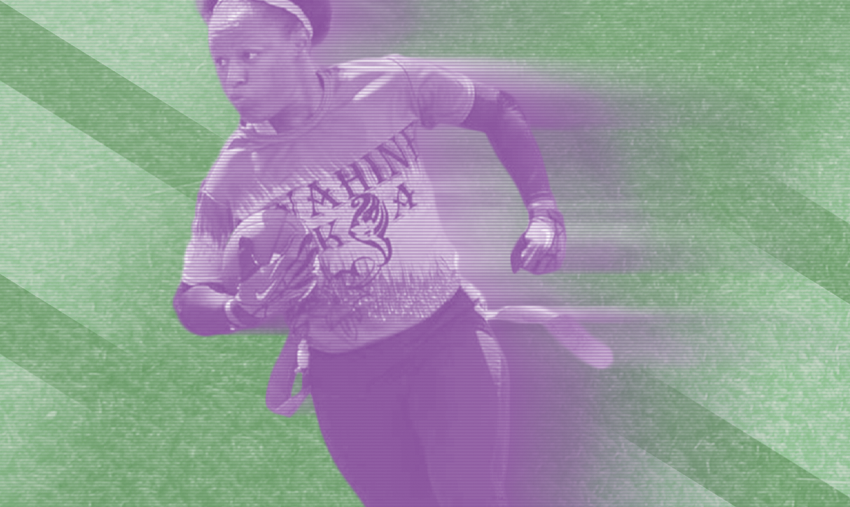 Athletics, Aquatics, Cycling, and Fencing: Quite a few sports have been part of every Summer Olympics since the first modern games in Athens 1896. But for every one of those, there's a long list of events that have been added, or removed, or both. In fact, it's not uncommon at all for a sport to be dropped and then picked up again years later, reflecting an increase in the sport's international popularity. (Some, like tug-of-war and croquet, were dropped and never seen again.)
Which brings us to the October announcement by the International Olympic Committee: Five sports will appear (or re-appear) at the 2028 games in Los Angeles: Flag Football, Cricket, Lacrosse, Squash, and Baseball/Softball (for men and women, respectively). They're kind of all over the place in popularity, so let's break 'em down!
Cricket
The second-most watched sport in the world behind association football, cricket draws an eye-popping audience of 2.5 billion, most in the Commonwealth of Nations. The International Cricket Council says the sport is played at some level in more than 120 countries, including 32 professional cricket leagues that employ some 4,200 professional cricketers.
Virat Kohli, an Indian player, has 262 million Instagram followers.
Originating in the Southeast of England before the voyage of the Mayflower, the bat-and-ball game has already had two(ish) appearances as an Olympic event. It was scheduled at the first modern games, where it would have been the only team sport – it was canceled due to insufficient interest – and four years later, England beat France for the gold medal in Paris, even though (a) neither team was nationally selected, but just regular club teams, (b) the French team was mostly British expats, and (c) there was no bronze medalist, because the other two teams dropped out.
We're sure there will be more competition in 2028.
Baseball/Softball
The World Baseball Softball Confederation estimates that more than 65 million people participate in baseball and softball in 141 countries around the world. Regular viewers number 500 million, mostly in North America and Japan.
The IOC has been hot and cold to the sports over the years: Baseball has had six appearances since Barcelona 1992, and softball five since Atlanta 1996. In 2012, both fell victim to contraction (the fact that MLB players were unwilling to play during the overlapping schedules surely didn't help). The sports had a reprise at Tokyo 2020, but won't be at Paris 2024. And at Brisbane '32? Who knows, mate?
Flag Football
Flag football is one of the newbies to the world of Olympic sports with its addition to the Los Angeles 2028 Games. According to the International Federation of American Football, an estimated 20 million people in 100 countries play flag football, including 7.1 million in the U.S. alone. (Naturally, the NFL is over the moon about this new worldwide spotlight.)
From its beginnings as a diversion for American soldiers during World War II, to an organized sport popular around the world, flag football has come a long way. The sport made its major international debut at the 2022 World Games in Birmingham, Alabama, paving the way for the 2024 IFAF Flag Football World Championship in Lahti, Finland, just a few weeks after the Paris Olympics.
Lacrosse
The origins of Lacrosse can be traced back some nine centuries, to a tribal ball-and-stick game that was played by the indigenous peoples of the Eastern Woodlands and some Plains Indians. Now it's the official national summer sport of Canada, one of the fastest growing sports in U.S. high schools and colleges, and the favored pastime of 90 World Lacrosse member countries around the globe.
Not surprisingly, Canada took gold at the 1904 and 1908 Olympics. After that, it was an exhibition sport in 1920, 1932, and 1948, so L.A. will be see medals awarded for the first time in 120 years. (We bet none of those old Team Canada players will be in attendance.)
Squash
After several previous failed attempts, squash is coming to the 2028 Olympics.
Played one-on-one in a four-walled court, squash is one of the most popular racket sports, enjoyed by about 25 million people worldwide. It's especially popular in Egypt, home to seven of the top ten men's players and four of the top ten women's players. A descendant of an older game called "rackets", squash first appeared on the scene at Harrow School in London around 1830. The first squash court in North America popped up in New Hampshire in 1884; a national association followed in 1904.