Laid Over
The long, stationary life of Sir Alfred Nasseri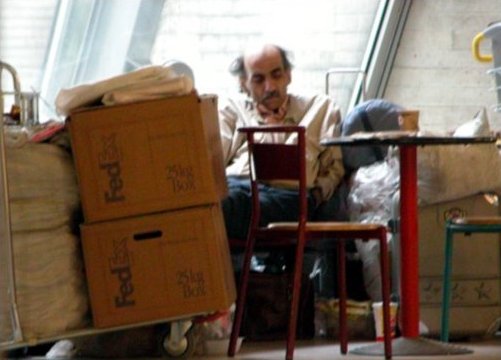 UPDATE: A version of this story was originally published July 12, on the news page of Questionist's parent company, Geeks Who Drink. Mehran Karimi Nasseri died at Paris Charles de Gaulle Airport on Nov. 12.
---
If you enjoy terrible, emotionally manipulative movies, then you're obviously familiar with The Terminal, the Steven Spielberg-directed schlockfest about an eastern European traveler who's forced into an extended stay at New York's John F. Kennedy International Airport because he isn't allowed to enter the U.S., but he can't be sent back to his now war-stricken country either. Tom Hanks puts on his best sad eyes and indeterminate accent to play Viktor Navorski, who flew to Manhattan from the fictional country of Krakozhia. But the inspiration for the film was actually a very real man from a very real place.
According to The Times, Spielberg paid a reported £300,000 ($356,500) for the rights to the life story of Mehran Karimi Nasseri. The Iranian-born Nasseri, who also called himself Sir Alfred, lived in Terminal One at Paris-Charles de Gaulle Airport for more than 18 years. In fact, it's hard to know exactly where Nasseri's bonkers situation really started — journalists and filmmakers have noted that he wasn't always the most reliable narrator — but he claimed that he was banned from living in Iran after participating in protests against the Shah.
A 2003 GQ profile of Nasseri said that he was eventually granted refugee status in Belgium. He later traveled to England by boat, and then something happened to his immigration papers — what, exactly, is up for debate — so he wasn't allowed to enter the country. He was sent back to Belgium and, because he had no documentation, he was bounced right back to England. He was then bundled onto a boat to France, and then, you guessed it, he was arrested for trying to enter that country illegally. After spending four months in la prison, he tried to fly to England, but was immediately returned to France.
Presumably exhausted, Nasseri parked himself on a bench in Terminal One in late August 1988, and didn't leave for nearly two decades. "Nothing has changed for me, except I have more baggage," he told GQ of his then-15 years in the airport. He knew about that Tom Hanks movie — he'd deposited the six-figure check at the airport's Post Office bank — but hadn't had the opportunity to see it. ("I didn't want to shatter his daydreams by telling him what a load of puerile crap Spielberg's movie was,' a Guardian writer snarked, not inaccurately.)
The BBC reported that Nasseri's 18-year CDG stay finally ended in July 2006, when he was transported to a Parisian hospital "for reasons unknown." After being discharged, he was given the OK to move into a homeless shelter in France.
"I realize I am famous, [but] I wasn't interesting until I came [to the airport]," Nasseri told the New York Times in 2003. Which is more than we can say for the movie.
---
Featured photo: Saint Martin, CC BY-SA 3.0, via Wikimedia Commons