Hack in the USSR
The Canadian hockey star who took the Cold War to the ice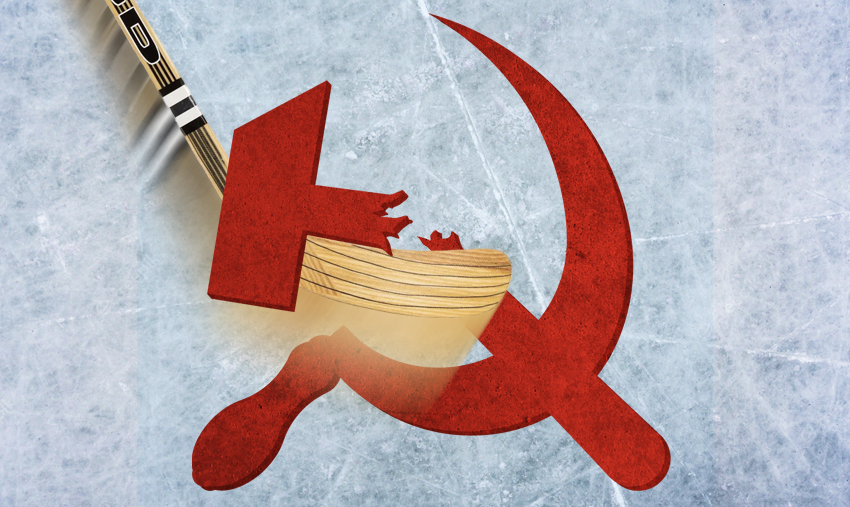 Before he'd ever laced his skates and clocked one minute of professional hockey, John Ferguson knew exactly what kind of player he wanted to be. When his first shift of his first game started, he wanted to kick off a career as "the meanest, rottenest, most miserable cuss ever to play in the NHL" — and it only took him a few seconds to prove it.
Twelve seconds (!!!) into his debut game for the Montreal Canadiens on October 8, 1963, Ferguson dropped his gloves and used both fists to introduce himself to Boston Bruins defenseman Ted Green. "Ferguson threw a solid right that landed in Green's nostrils," Brian MacFarlane wrote in his book The Habs. "Green staggered back, shaken by the ferocity of Fergie's attack, his face numb from the punches. He realized instantly that there was a new enforcer in the league, a deadly puncher who would bring grief to all who challenged him."
Ferguson finished the night with two penalties for fighting, and contributed two goals and an assist in the Canadiens' 4-4 tie. That balance — between bashing the hell out of anyone who made sustained eye contact and deftly finding the back of the net — summed up his eight-season NHL career. By the time he hung up his Habs sweater, he'd won five Stanley Cups and scored the winning goal in Game 4 of the Canadiens' 1969 sweep of the St. Louis Blues. He also accumulated 1,214 penalty minutes and had 67 fights in 500 regular season games.
Ferguson stayed in the game after retiring as a player. He was named the assistant coach of Canada's national hockey team in 1972, the same year they faced off against the Soviet Union in the eight-game exhibition tournament called the Summit Series.
After four games, the USSR led the series 2-1-1. Russia had been so dominant — and Canada so underwhelming — that the crowd at Vancouver's Pacific Stadium booed Team Canada right off the ice. One of Russia's many offensive weapons was speedy forward Valeri Kharlamov, who scored two as the Soviets throttled Canada 7-3 in the tournament's opener. "He had the skill and ability of any player in the NHL at the time," Team Canada head coach Harry Sinden sighed.
The series moved to Moscow for Game Five, and after the Russians eked out a 5-4 win, Canada could only salvage the tournament by winning three in a row. After a scoreless first period in Game Six, Russia nicked a goal in the second, and Ferguson turned his attention to Kharlamov – specifically his banged-up ankle.
"I called [Bobby] Clarke over to the bench, looked over at Kharlamov and said, 'I think he needs a tap on the ankle,'" Ferguson later said. "Don't think twice about it. It was Us versus Them, and Kharlamov was killing us. I mean, somebody had to do it."
Clarke did what Ferguson asked, slashing Kharlamov with his stick and knocking him out of the game, which Canada won 3-2. Clarke has slightly different memories of the incident though, later saying that Ferguson didn't speak directly to him, but "made sure the right guys would hear it." (By 2006, Clarke was full-on denying the whole conspiracy. "We were going for the puck together, he pushed me with the stick, then turned around and skated away," he said. "I caught up with him and hit him on the leg, not thinking at all where and how I hit.")
Regardless of who said what, Canada won Game Six…and Game Seven…and Game Eight, completing an incredible comeback to win 4-3-1. Due to a broken bone, Kharlamov missed the seventh game and was a non-factor in the eighth.
Some members of Team Canada have since questioned the targeting of the Russian forward. On Kharlamov's posthumously Hockey Hall of Fame induction in 2005, winger Paul Henderson told The Globe and Mail, "I really don't think any part of that should ever be in the game. But in '72, I thought it was fine."
Ferguson, who died of prostate cancer in 2007, never wavered or apologized for what happened in Moscow. "I've never played in a series that mattered when the going didn't get rough," he said. "My view on this: I don't care how we win, as long as we win."