'My name is Edson'
The birth of a famous four-letter word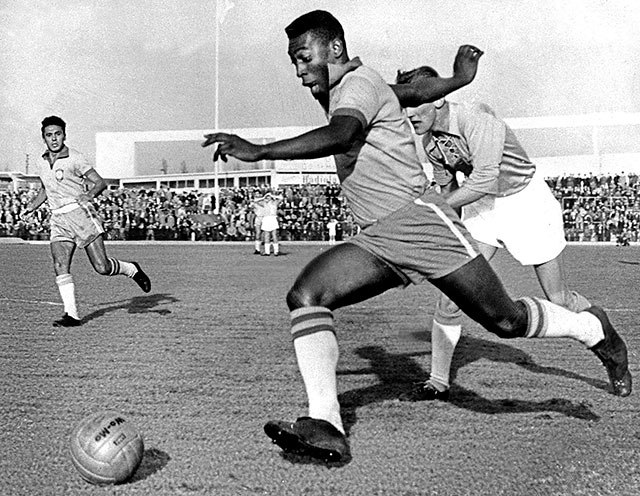 UPDATE: A version of this story was published Feb. 16 on the news page of Questionist's parent company, Geeks Who Drink. Pelé died Dec. 29 at age 82.
---
When Edson Arantes do Nascimento was born in October 1940 in southeastern Brazil, his parents decided to pay tribute to an American who'd died almost exactly nine years earlier. Because electricity had only recently been introduced to their city, Três Corações, João Ramos do Nascimento and Celeste Arantes named their first son after Thomas Edison.Maybe his parents meant to skip the 'i' in Edison, or maybe it was an inadvertent mistake on his birth certificate, but it didn't really matter: before Edson even hit double digits, everyone was calling him Pelé.
In a piece he wrote for The Guardian, Pelé said he could "never be 100 percent certain about the origin" of his famous nickname, but he has a theory that it could've been based on Bilé, the nickname given to one of his footballing father's teammates. (Brazilian footballers love their mononyms: just ask Rivaldo, Romário, Ronaldo, Ronaldinho, and, uh, Fred.)

"Because I was only young, I somehow distorted the nickname and said that when I grew up I wanted to be a goalie like 'Pilé'," he wrote. "When we moved to Bauru, this 'Pilé' became 'Pelé.'"
Although he wrote that he "[didn't] mind" the seven-ish decades he's spent as Pelé, last year he suggested to Italy's Tuttosport that he might've preferred it if everyone knew his real name.

"My name is Edson, then they started calling me Pelé," he said. "I didn't like it, I started arguing with everyone. I was a Thomas Edison fan. What is Pelé? Thomas Edison is important!"
Dude. So is Pelé.
---
Featured image courtesy of: AFP/SCANPIX / Public Domain