Dumpst-afire Explosion
Untangling the sordid web that is ShowBiz Pizza vs. Chuck E. Cheese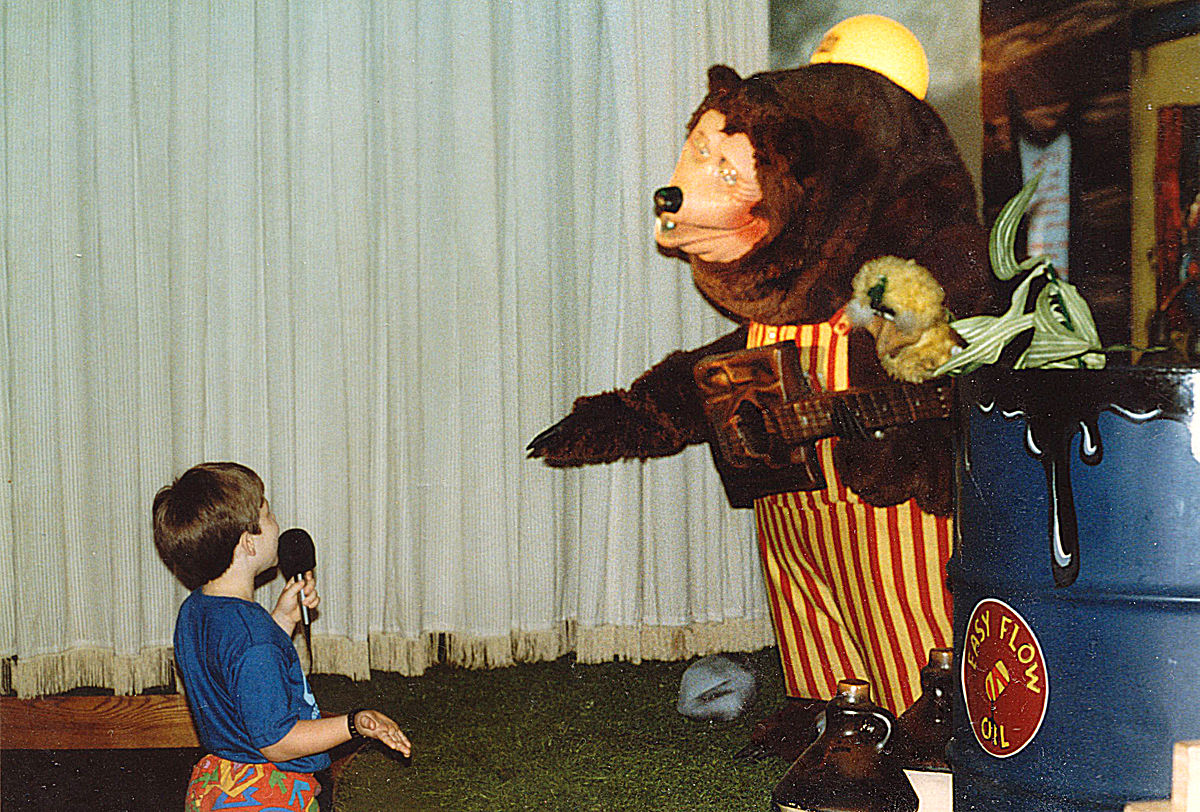 Hey, remember ShowBiz Pizza, the combination children's casino arcade, animatronic theater, and pizza restaurant that your coolest babysitter used to take you to? It has a tangled history with Chuck E. Cheese, that other arcade-slash-animatronic theatre-slash-pizza restaurant, and its backstory is more complicated than one of Dook LaRue's drum solos.
This all started in the late 1970s when a guy named Nolan Bushnell was feeling pretty great about himself. He'd founded the Atari video game company, was riding high on the 2-D success of Pong, and decided that a pizza restaurant might be a good way to get more kids interested in his arcade games. He also decided that children would love terrifying robotic animals, and he eventually developed a show starring an animatronic rat called Chuck E. Cheese.
"The reason for doing the animals, believe it or not, was not for the kids. It was meant to be a head fake for the parents," Bushnell told The Atlantic in 2013. "Kids are really smart at knowing how to play their parents. and the kids knew that if they said, 'I want to go to Chuck E. Cheese and play the games' the parents would just see themselves spending money. But if they said, 'I want to go see Chuck E. Cheese entertainment — and it's free,' they'd be good to go."
Bushnell opened his first Chuck E. Cheese's Pizza Time Theatre in May 1977 in San Jose, California. He was eager to expand what he believed could become a rat-powered pizza empire, and pitched the idea to investors. One of the deep-pocketed dudes Bushnell turned to was Bob Brock, a man who'd already made bank by franchising Holiday Inns.
According to ShowbizPizza.com — which calls itself "the premiere online resource for people seeking to learn more about this unique restaurant concept" — Brock signed a $200M deal with Bushnell to franchise the Pizza Time Theatre concept in 16 states. And this is where things get really complicated and really messy. Brock eventually decided he wanted his own pizza restaurant and his own even better animatronic nightmare fuel, so he teamed up with a guy named Aaron Fechter who had designed a high-concept band of robot animals.
Brock bailed on Bushnell and Pizza Time Theatre, and created his own company with Fechter, called ShowBiz Pizza Place Inc. Their first ShowBiz Pizza restaurant opened in March 1980 in Kansas City, Mo., followed by its second restaurant — complete with its own exclusive Rock-afire Explosion robot band — in Florida.
Unsurprisingly, Bushnell sued Brock and ShowBiz in 1982, and Bushnell ended up getting a slice of ShowBiz's profits for the next 14 years. But then two years later, Bushnell filed for bankruptcy — and guess who swooped right in? Yup, ShowBiz Pizza merged with Chuck E. Cheese, but allowed Bushnell's restaurants to keep their name.
By the end of the decade, though, Fechter also decided he wanted out, and he said he was taking the Rock-afire Explosion with him. So the chain was rebranded again in 1990 — a process given the ominous sounding name of "Concept Unification" — and all of the Rock-afire characters were replaced with their Chuck E. Cheese counterparts. By 1993, all of the remaining ShowBiz locations had been given the Chuck E. Cheese name too.
Several decades later, Bushnell still seems slightly disappointed that his vision — and his bank balance — fell short of his expectations. "[Making $35 million] wasn't bad, but it wasn't $200 million," he told The Atlantic. (Our accountant verified that.)
---
A version of this story appeared June 3, 2022, on the news page of Questionist's parent company, Geeks Who Drink.
Featured image: Ray or Jane Schumin, CC-SA 3.0 via Wikimedia Commons.