This Post Blows
A loud, shrill history of the referee whistle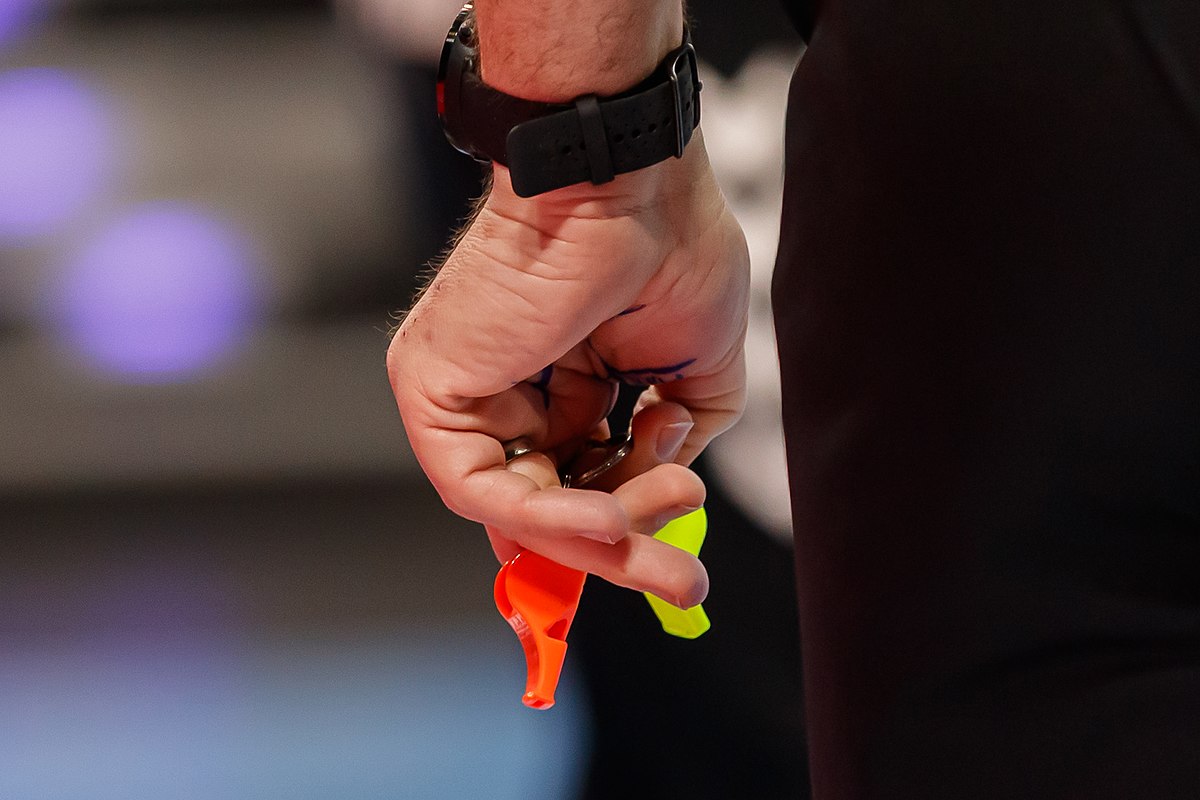 A version of this story appeared on the news page of Questionist's parent company, Geeks Who Drink. But preseason hockey starts today, so we're … uh, putting the biscuit back in the basket?
---
If you spend enough time on the r/referees or r/hockeyrefs subreddits (and who doesn't?) then you'll eventually read a post about whistles, specifically one asking for recommendations for the best whistle for an on-ice official to use. And, at the risk of ruining the BIG PLOT TWIST, most of those recommendations are for either the Acme Thunderer or the Fox 40.
It's hard to improve on whistle design (more on that in a sec) which is why the Acme Thunderer has remained mostly unchanged for the past 130-plus years. It was designed and manufactured by Joseph Hudson, a toolmaker and metal craftsman in Birmingham, England, who realized that cops could probably use something to get the public's attention other than the giant rattles they carried around with them. (No, really). In 1883, he created the first police whistle, and successfully sold Scotland Yard on the idea. According to the Acme website, Hudson sold 21,000 of "The Metropolitan" model almost immediately.
A year later, he released the Acme Thunderer, which was called "The First Sports Whistle." An advertisement from the time shows an in-progress soccer match, along with the slogan "There is no argument with an Acme Thunderer." (Clearly Acme's copywriters couldn't have predicted the existence of Lee Cattermole.)
Fast-forward well over a century, and the Acme Thunderer is still widely used, although there are now eight different versions for officials to choose from. The company says that it's still widely used by referees from FIFA (including at the 2018 World Cup), England Netball, and Hockey Canada.
The Acme Thunderer was pretty much unrivaled until 1987, when a former basketball ref named Ron Foxcraft and industrial designer Chuck Shepherd created a new whistle that they called the Fox 40. The difference between the Fox 40 – which got its name because Foxcraft was, uh, 40 at the time — and the Acme Thunderer was that the latter has a small metal 'pea' inside it that allows the whistle-blower to create a wider range of sounds, while the former is pea-less without any moving parts. (Foxcraft claims that the pea in his whistle got stuck while he was reffing the gold medal basketball game at the 1976 Olympics; that event basically became his pea-less origin story.)
Last year, the National Hockey League (NHL) named a version of Fox 40 as the official whistle of the league. Their whistle is called "The Caul" in honor of late NHL referee John McCauley. "When John died I was very upset and told our staff that the next time we did a hockey whistle we would tribute it to him," Foxcroft told the Independent Free Press. "The engineering to make it work perfectly for outdoor games was very difficult. But when we finally got it right, his sons Wes and Blaine were very emotional that we named it for their dad."
Now if only we could get all those refs a decent eye exam…
---
Featured image: Steffen Prößdorf, Creative Commons Attribution-Share Alike 4.0