Girl You Know It's (Finally) True
Decades after scandal, documentary shifts blame away from Milli Vanilli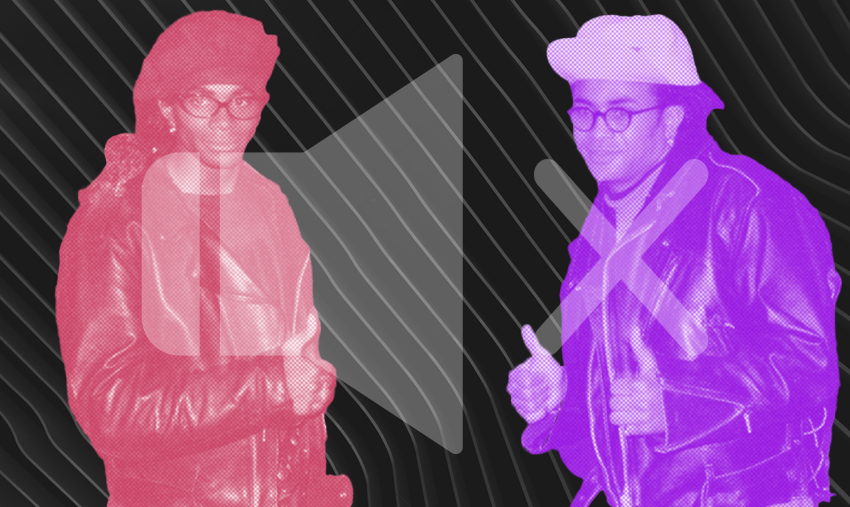 Thirty-three years ago today, German producer Franz "Frank" Farian held a press conference for thee grand reveal: Milli Vanilli did not sing their songs. And now, in the simply-titled Milli Vanilli (Luke Korem, 2023, Paramount+), we finally have a documentary to tell this oddly tragic tale: The duo got all the backlash, but it was Farian who created them in the first place – and all-but forced them to go along with the plan.
Born in Western Germany during the Second World War, Farian began his career as the lead singer of Frankie Farian and the Shadows, an all-white band that covered the hits of Black artists such as the Drifters and Otis Redding. When that group didn't succeed to his expectations, Farian embarked on a sorta-solo career under the name "Boney M." – that is, he recorded the tracks himself and hired a band of Black performers from the Caribbean to dance and lip-sync onstage. He/they scored a string of hits across Europe in the late '70s, including the delirious "Rasputin," keeping him busy until the "band" "broke up" in 1986. That's when the Milli Vanilli project materialized to fill the gap.
Per his accounts, it wasn't until after Farian had spent thousands of dollars on developing the would-be stars that he gave them an ultimatum: They could either go along with the plan or reimburse him for the sunk costs – money that they certainly didn't have. So, basically, they had to decide whether to go into serious debt or become stars. What to do? Without giving too many spoilers, the members of Milli Vanilli – Fabrice "Fab" Morvan and Rob Pilatus – were plagued by this secret the entire time they were touring the world (and collecting their notorious Grammy in 1990). Living in constant fear of being found, Pilatus picked up a drug habit, which led to his death in 1998.
The cruel irony: Morvan and Pilatus could actually sing. By forbidding them from it, the documentary argues, Farian treated them like glorified show ponies. Good-looking, fashion-forward, and great dancers, but not talented enough to be heard.
(Not all of Farian's protegés felt hard-done-by. As Boney M. member Maizie Williams told New Zealand website Stuff in 2015, "Some people suggest we were just Frank's puppets, but during the 70s and 80s, image was as important as the music. The fans wanted a show, and they couldn't care less who was in the band.")
Pop puppetry
If Farian's ultimatum just sounds like, you know, how band management deals usually work… well, it kind of is. From Diana Ross to TLC to N'Sync and the Backstreet Boys, the pop realm has long been known for producing performers who later come out to reveal the control and abuse behind the scenes. There have also been plenty of lip-syncing scandals, regardless of whether the artists could sing or not.
This is because the pop realm values perfection over personality; mistakes are strictly forbidden, on and off the stage. As much as we love pop music, there seems to be an embedded subculture that promotes the mistreatment of these artists. Worst of all, somehow, these unsavory characters can continue their careers virtually unscathed. (Crazily enough, Farian found the charts with two more Black-led groups after Milli Vanilli: La Bouche and Le Click. Both apparently sang for themselves, though.) 
But as we've seen with Britney Spears and Kesha, most recently, such pressures and expectations take a toll on these artists and change them unfathomably. And so it is with the Milli Vanilli documentary: A sad example of what happens when artists are forced to trade their autonomy for riches and fame.