The Cane Mutiny
Reddit's not sure about a kids' worksheet puzzle, and more crossword news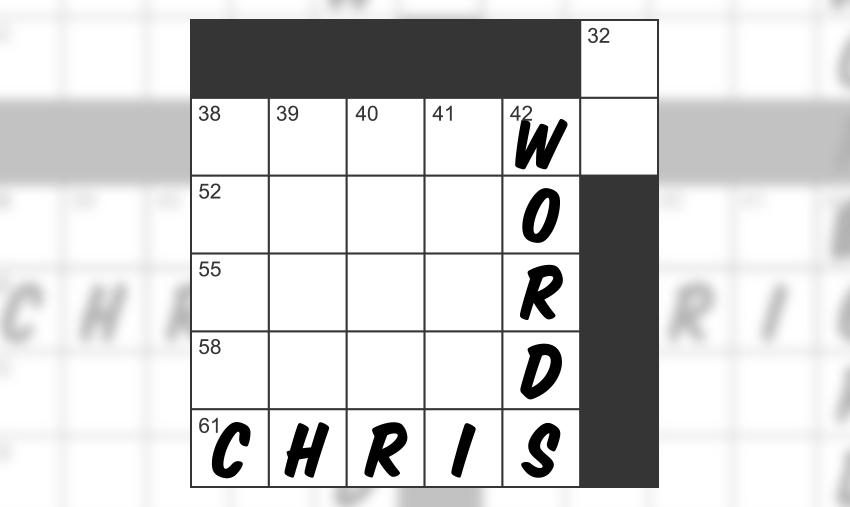 by Chris King
Happy Sunday everyone! ERA is the most common New York Times entry in the Will Shortz era, and Taylor Swift: The Eras Tour debuted in theaters this week. It's a safe bet that the word ERA will have Swift clues for… erm, eras to come. Let's see what else happened in the crossworld this week!
Clues you can use
Wednesday, Oct. 11 (Universal Crossword, constructed by Rachel Simon)
Bravo's "___ Deck" = BELOW
The popular reality TV series Below Deck offers viewers a glimpse into the world of luxury yachting, and the lives of the crew who work on these opulent vessels. Since its 2013 premiere, the show primarily has focused on the staff of a mega-yacht, mixing the drama of interpersonal relationships with the challenges of serving demanding (and often wealthy) charter guests. The series has garnered a dedicated following, and spawned several spin-offs.
Wednesday, Oct. 11 (Los Angeles Times, constructed by Joseph A. Gangi)
"Beautiful Mistakes" rapper Megan __ Stallion = THEE
That's pronounced like a regular "the," by the way, not like "My country 'tis of Thee." Born Megan Pete in 1995, Ms. Stallion a highly acclaimed American rapper, singer, and songwriter. She burst onto the music scene with her mixtapes and gained widespread recognition with her debut studio album, 2019's Fever, which earned the first of her three Grammys. Known for her bold and empowering lyrics, Megan's music often addresses themes of female empowerment, body positivity, and sexuality – e.g., she coined the catchphrase "Hot Girl Summer," and scored #1 hits with "Savage" and "WAP" (the latter with Cardi B). She looks to be a mainstay in rap for years to come.
Friday, Oct. 13 (New York Times, constructed by John-Clark Levin)
Focus of some modern ethical debates = CHATGPT
ChatGPT is an advanced artificial intelligence language model developed by OpenAI. With its extensive training data, ChatGPT can understand and generate human-like text, making it a powerful tool for natural language processing tasks. It has applications in a wide range of fields, from customer service chatbots to content generation. Users can interact with ChatGPT through text-based conversations, and it can provide information, answer questions, offer suggestions, and more. In fact, this paragraph was written by ChatGPT.
Some sentient solving
While the discussion of AI and computers has been heavily discussed in the history of crosswords, we've got some clues written by humans! Answer these clues, all of which begin with G, contain a P, and end with T.
Crossbar supporter (8) = GOALPOST
Baptismal sponsor (9) = GODPARENT
Item pictured on '35 Florida plates (10) = GRAPEFRUIT
Heavenly body that humans will never set foot on (9) = GAS PLANET
Words with friends on one's phone, say = GROUPCHAT
A punishing puzzle
In this space, I like to talk about well-written crosswords, with good clues, great authors, and fun solutions. But of course, many crosswords aren't that good. One thing that went viral this past week was a children's puzzle on a worksheet, which stumped a Reddit audience.
Apparently, the missing word was RATTAN. A plant material often used to make wicker chairs, apparently rattan is also used to make canes for corporal punishment… which is what the angry man was meant to be doing. This particular entry bewildered many people, as it both highlights an obscure word that isn't exactly for a fourth-grade audience, and also shows an archaic style of punishment.
The Reddit page features a lot of alternate answers for this grid. One user noticed that a full grid might have SEADOG for SAILOR, EIGHTY for ELEVEN, and so the picture of the angry man would be GRUMPY. Rather than reminiscing about rampant brutality, I choose to accept this solution.
Now, steer clear of puzzles like this one, and go find some actually good crosswords to solve this week. Enjoy!
---
Chris King is a longtime crossword commentator, and the author of five published puzzle books. His column appears on Questionist every Sunday.