Watch this space for the latest from GWD HQ, and keep your FOMO to a BM (that means Bare Minimum).
Springfield v. Springfield v. Springfield v. Springfield…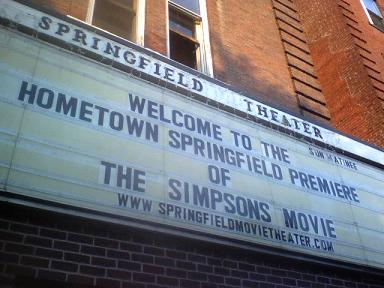 During its unprecedented (and, at times, exhausting) 33-season run, The Simpsons has never specified exactly which Springfield its title family lives in. That's why, when The Simpsons Movie was on the release calendar in 2007, its producers invited 14 different Springfields to compete to become that Springfield — THE Springfield — at least for one night.
Those assorted Springfields were each asked to make a short film showing their, uh, "Simpsons Spirit" and then USA Today invited its readers to take a break from reading one of their 1,500 pie charts to vote on which video was the best. Some Springfields pulled out all the stops: the Massachusetts version recruited late senator Ted Kennedy to talk up the city's "chowdah" (that's not a joke) but none of them could compete with the entry submitted by tiny Springfield, Vermont.
According to TODAY, their video was filmed by a 17-year-old kid, who followed a guy dressed as Homer as he chased a giant pink doughnut through the town. That was enough to collect 15,367 votes in USA Today's contest, beating Springfield, Illinois and Springfield, Oregon, and earning the right to host the world premiere of The Simpsons Movie. 
"After 18 years, it's good to finally welcome the Simpsons home," longtime Vermont senator Patrick Leahy said at the time. "Homer, Marge, Bart, Lisa and Maggie will look great on that yellow carpet with the green mountains as a backdrop." (First, what is it with all the senators who were involved in this? And next, Leahy knows Hollywood: no shit, he's been in more Batman movies than any actor who's played Batman.) 
On July 21, 2007, the producers really did roll out a yellow carpet in front of Springfield's little 100-seat theater and, at least for a couple of hours, it was the only Springfield that mattered.
The Simpsons Movie shows up in this week's Mystery Video Fun Club. Give it a watch here.
Featured image courtesy of: Public Domain