Watch this space for the latest from GWD HQ, and keep your FOMO to a BM (that means Bare Minimum).
Get Out of the Pool, Already!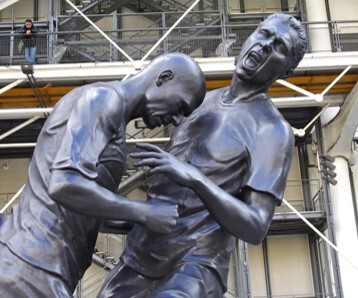 Recently, we ran a round called "Get Out of the Pool, Already!" You see, it was the birthday of Kublai Khan's most famous mooching house guest, so we asked a bunch of questions about Marcos and Polos. We covered everything from the sentient pig, Marco Rossolini, to Polo G lyrics. And we couldn't miss an opportunity to ask about Zizou's famous headbutt of Marco Materazzi at the 2006 World Cup. Let's dig a bit deeper into that WTF moment.
French soccer player-turned-coach Zinedine Zidane has accomplished almost everything on both sides of a soccer pitch: winning league titles in Italy and Spain as a playmaking midfielder, and later managing Real Madrid to three straight Champions League wins; banging in a left-footed match-winner in the 2002 Champions League Final that still gets included in listicles counting the greatest goals of all time; and he won two World Cups as a crucial member of the French squad.
But he's also remembered for that time he absolutely lost the plot and headbutted Italy's Marco Materazzi in the Final of the 2006 World Cup. The match was tied at 1-1 — both ZIdane and Materazzi scored for their respective sides — and Zidane bashed his skull into Materazzi's chest in the 110th minute. "Zizou" was sent off; the match went to penalties, and Italy won the shootout 5-3. (And hell yes, Materazzi made his PK.)
Zidane has always insisted that Materazzi provoked him by insulting his mother; Materazzi has always insisted that he said nothing of the sort. Regardless, in a 2010 interview with Spanish outlet El Pais, Zidane said that he would "rather die" than to ever apologize to the Italian.
In 2012, French artist Adel Abdessemed unveiled a 16-foot tall statue of Zidane planting his dome in Materazzi's sternum outside the Pompidou Centre in Paris. After being showcased in the French capital, it was purchased by the Qatari Museum Authority and briefly put on display in Doha before public backlash caused the Authority to shove the whole thing in a closet somewhere. (Some of its critics thought that it promoted idolatry or violence, or both.)
BUT earlier this year, the head of the Museums Authority announced that Qatar would be pulling the statue back out in advance of this year's World Cup, which kicks off in Qatar in November. "Evolution happens in societies. It takes time and people may criticize something to begin with, but then understand it and get used to it," Sheikha al-Mayassa al-Thani told Reuters.
Zidane has long since retired, as a player and a manager. Defending World Cup champions France will face Australia in their opening match. Italy failed to qualify for the World Cup for the second straight time.
Featured image courtesy of: David Merrett, Creative Commons Attribution 2.0