The Geek in Review Guest Quizmaster Series
This week's GIR was written by Quizmaster Chris, aka FishBoxer. You can see him host on Tuesdays at 8pm at Sweet Caroline's Restaurant & Bar in Boston, MA and Wednesdays at 8pm at Tavern in the Square in Allston, MA. As seen in Meet Your Quizmaster nobody likes him, so be gentle.
I'm glad Goober wrote last week's GiR. It was supposed to be my week until my best friend decided to get married on a whim so Goober was kind enough to fill in for me and set the bar pretty low. Did you know his nickname was supposed to be Booger but he misspelled it?

I digress. I'm supposed to be saying good things about my fellow Quizmasters here, or so I have been told. I was also told to talk about the color of my toenails. I don't know why I was told this or why any of you would care, but they are currently a bright orange. No, you cannot see pictures. If you must know the story I paint them for identification purposes. Being such a freakishly large fellow makes it tough for me when I look down on everyone (and I DO look down on everyone). By painting my toenails I can easily distinguish my feet from everyone else's.

Sorry, I went on a tangent again. Fellow Quizmasters. Nice words. Oohh something shiny!
Nerd News Now!
Important Updates From GWD Headquarters

Meet Your Quizmaster
Get to know your hosts in depth and in detail every first and third Friday of the month with QM of the Year Michelle Miller!

Errorogenous Zone
Our weekly look at what we did and didn't screw up is now updated every week!
Got a bone to pick with us? Do it here!

Tweet of the Week:
Kayla knows how to prep for a quiz. 25 pages for a show three seasons long? I'm horrified to see her notes when our next Harry Potter Quiz comes along...

Apparently my #arresteddevelopment @geekswhodrink notes look like a law school outline (25 pgs, single spaced, 10-point font)
New Quizzes Starting This Week:
Preservation Pub - Knoxville, TN @8PM (Starts July 23rd!)
Lucky Strike - Houston, TX @8PM (Starts July 23rd!)
Scholz Garten - Austin, TX @8PM (Starts July 23rd!)
Elliot Bay Pub and Pizza - Mill Creek, WA @7PM (Starts July 24th!)
Trident Grill - Tucson, AZ @7:30PM (Starts July 25th!)
St. John's Tavern - Dallas, TX @8PM (Starts July 25th!)
This Week In Geek
Every quiz is unique - and these are the unique-iest
There was a modeling shoot at WHISKEY BAR.

OPAL DIVINE'S (Marina) shows you how quality team names are done.

PIPER DOWN has some heartfelt words for a dead man. Kick 'em while they're down, Dr. Nick.

Remember Goober? He was whoring it up at MARIO'S DOUBLE DAUGHTER'S.

BREWFORIA has some questions about anal sex with bears.

How big was the Arrested Development Quiz? Over at TOMMY DOYLE'S they needed an ENCORE.

CB & POTTS takes a look back at some interesting legal decisions that may or may not have actually happened.

The QM at NATTY GREENE'S is desperately trying to get laid.

LION & ROSE (BROADWAY)'s QM just inflated the egos of every QM in the country, as if we needed any help with that.

There was a guest writer over at the TRAILHEAD.

TAVERN IN THE SQUARE is stuck in a time vortex.

The QM at MOE'S finally says what we've all been thinking about wedding playlists.

SPIRIT BAR breaks all the rules because, honestly, who doesn't love a three-way dance-off?

And finally, let's all join ROOSTER & MOON in a moment of silence for the dark night in Aurora.
Team Names of the Week!
Tip Your Bartender (Prickly Pete's and Dry Dock)
How Can We Be Lovers if We Can't Be Facebook Friends? (Whiskey Bar)
You Were Hotter Before You Were In My Vagina (Opal Divine's Marina)
Don't Take Down Paterno's Statue, Just turn it So it Looks the Other Way (O'Niell's)
Is it Raining or is This a Facial? (O'Niell's)
Jurisprudence Fetishist Gets Off on Technicality (Highball)
The 7 Habits of Highly Effective Zombies (Piper Down)
Seven Habits of Highly Dead People (Wyman's)
If the Shocker Doesn't Rock Her, Spock Her (Prohibition)
My Couch is a Team Name I've Heard 8 Million Times (Fat Squirrel)
Will Rihanna Be on Chris Brown's Greatest Hits? (Freshcraft)
TJ Will You Marry Me? (The Glenn)
Crouching Barmaid, Hidden Sausage (Irish Rover)
YOLO is Just Carpe Diem for Stupid People (Rock Bottom)
Spoiler Alert: Wayne Enterprises Gets Liquidated by Bain Capital (Bumsted's)
Patient Referred to Physician Who Specializes in Giving a Shit (D Note)
Hit Me With Your Best Money Shot (Nicolo's)
Free Tibet With Purchase of Equal or Greater Value (Brighton Beer Garden)
All Our Team Names Are Run-On Sentences That Don't Make Sense But Are Pretty Funny, We Just Need To Learn to Condense Them (Coaches)
Best Way to Baby-Proof Your House is By Wearing a Condom (Jax)


Evil Rob's Weekly Champions of Quizlandia!
A weekly look at who is better than you by the guy who is smarter than you.
--Okay, so maybe Austin isn't a one-horse town after all...

--The big surprise of the week has got to be The Upper Decks. They're not usually one of Austin's higher-scoring quizzes, but this week they got #1 bar and #1 team in country.

--A team from Boston got #2 in the team rankings for I think the first time ever.

--If I could rank the teams in the team rankings based solely on their names, Rosemary's Baby Got Back would be #1 by a gigantic margin. Though if Anal Hershiser had won at Opal Divine's, it would have been close.

Top Scores For Arrested Development Quiz:
--3-Way Tie--91 points!!!--
The Regular Brad Garretts, Village Pourhouse--Hoboken, NJ
Dutch Rudders, Moe's BBQ--Englewood, CO
Discipline Daddy, Barrio--St. Paul, MN
Top Cities
1. Austin 80.20
2. Denver 77.03
3. Tucson 75.57
4. San Antonio 74.88
5. Fort Collins 74.52

Top Bars
1. The Upper Decks--Austin, TX 84.25
2. Opal Divine's (Freehouse)--Austin, TX 84.03
3. Rock Bottom Brewery--Bellevue, WA 82.07
4. Lion & Rose Pub (Sonterra)--San Antonio, TX 80.90
5. Bumsted's--Tucson, AZ 78.43

Top Teams By Power Ranking
1. Quizzards of Ozz, The Upper Decks--Austin, TX 90.40
2. Bun Dem Program, Joshua Tree Bar & Grill--Somerville, MA 87.07
3. Rosemary's Baby Got Back, Lion & Rose Pub (Sonterra)--San Antonio, TX 86.54
4. FG NASCAR, Highball--Austin, TX (Sun.) 86.50
5. Thesaurus Rex, Opal Divine's (Freehouse)--Austin, TX 85.60
Photos Chris Likes!
This week we feature the pets of Geeks Who Drink.


You wascally wabbit.

A pet octopus?

That's one happy dog.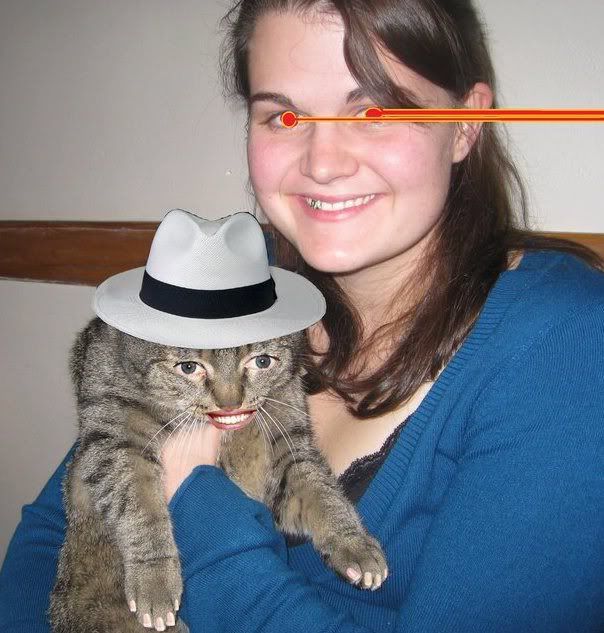 Never trust a cat in a fedora.