Santa Anna would have Sashayed Away
Yesterday here in the Grand Ol' State of Texas was the Battle of San Jacinto Day.

Little history lesson for ya:

The Battle of San Jacinto was fought on April 21, 1836, 45 days after the fall of the Alamo Mission. The Battle of San Jacinto was over in a matter of hours, with only 9 Texian casualties. Santa Anna was captured the next day, apparently dressed as a woman attempting to escape, and held as a POW until he signed the Peace Treaty which started Texas' journey to become an independent country.
The story goes that Emily Morgan, AKA The Yellow Rose of Texas, was with Santa Anna, travelling to meet Sam Houston's Army. And by with him, we mean WITH him. Knowing him biblically. Playing hide the pickle. Perfoming the act of the beast with the two backs. Shaking the bear. That thing we don't learn about in the Texas Public School System. Fun "fact", the Yellow Rose of Texas is actually a racial slur, because Ms. Morgan was actually a free woman of color, or "high yellow" because she was of mixed race.

Props to me, 'cuz that all came from my brainbone. I guess being a tour guide for the city finally came in handy, instead of obnoxious.

It was kind of obnoxious, actually...

TO THE QUIZ!

I really dislike "Kiss Me" by Sixpence None The Richer. I get shivers when it comes on, and not the good kind. I don't know what it is about that song, but...just...no. Makes me feel like if I take off my glasses, and take my perpetual ponytail down, I'll actually get a date. With Freddie Prinze Jr. Let's be honest, though..

It would probably be Steve Buscemi instead.

Congrats to The Doo Doo Dicks for your paper airplane skills for the bonus for round 3. Not only did you get the answer right, but you creamed the wall with your strength and fortitude. I did not think that little game through all the way, because it was very hard to keep the papers flat after.

Oh well, lesson learned.

The Twitter Round? I don't understand Twitter. I never will. With the @'s and #'s, it just gets too confusing. And to be quite honest, I felt like I needed to do the Justin Timberlake/Jimmy Fallon Hashtag hands everytime I said the word.

The visual round was a pretty simple one. Good to know you all know how to use your phones. Sending out pictures of your member is used on at least 4 of those, which is probably how you know to use them.

My favorite round by far was round 8. And that's just because of the hilarious, and some disturbing parental nightmare memoirs you had. Now I have some ammo for when my little one gets older, and I can't handle being The Cool Mom anymore. Let's share a few, shall we?

NAMES HAVE BEEN OMITTED TO PROTECT THE INNOCENT... well, some aren't so innocent.

"Had a dog growing up that for some reason had the name Boobie. When her High School boyfriend came over, her mother asked if he would be interested in seeing her "Boobie" Thought it was the funniest thing she'd ever said." HONORABLE MENTION

"Caught me getting a BJ on the front porch" HONORABLE MENTION

"Caught each other masturbating" (I really hope this was on seperate occasions, but because it's better to think it happened at the same time...) 3rd PLACE

"Got my first period when I was 12 and my parents made me sit on a newspaper in the car X(" 2nd PLACE

"Left me at school on a Sunday for two hours where I was seen by the students and called Sunday Kid for a month." (This is not only embarassing, and a sign of bad parenting, I'm sure your award doesn't come close to the amount of therapy that was needed to erase that from your memory whenever someone says they will be there in 10 minutes.) 1st PLACE

At the end of it all, we had Noken taking First place, The Doo Doo Dicks in Second place, and Girl Drink Drunk coming in Third. It was a close race throughout the night, with these teams only having a difference of 1 point seperating them from eternal glory. At least for one night.

Thanks for being so awesome last night guys, and hope to see you again next week!
A Tricky Gerbil Named Jim From Outer Space
Happy Birthday! We had a birthday celebration with the Stock Adders Get Old last night. Thank you for the offer of a cupcake, guys. Well, a cupcake you cut with a knife. Which is not how you eat a cupcake. You shove it all in your mouth at once and then try to continue normal conversation and see who calls you out on it.
You know who calls you out on it? Your enemies. Dispose of them at once.

We had a pretty close game throughout the evening. We had the Stock Adders Get Old, and Rural Jurors jockeying for first place throughout the evening. Dharma Initiative Dropouts took third place at the end with a wild Joker, pulling them from last place, into third. And the crowd goes wild!!!!

So, space questions. Uranus is not a dwarf planet, Sex Panther. Just ask your mom. OH SNAP.

You guys also know a lot more about gerbils than the average American. Those adorable little rodents....

And James Cook. Good ol' James Cook. Did you know the Hawaiians also mistook him for a physical incarnation of the God Lono? If I could be mistaken for a God, it would probably be Hephaestus. Only in that I like to build things, and my mom got really mad at my dad for giving birth to my sister asexually. Or, at least that's the story he likes to tell people. Also, that he once turned into a swan to get some girls number. That must have been a weird Tinder meetup.
Fun Fact: If you Google "Things Zeus Turned Into to Get Laid", you get a full comprehensive list of his transformations, and the women who fell for it. The More You Know.
Thanks everyone for coming out, and hope to see you next week. Don't forget, we've got our Awesome Mix: Vol. 2 coming up on May 2nd. Go ahead and click the link for more details.

And while you're at it, check out these links too!

My own Twitter.
And look, a facebook too.
Geeks Who Drink twitter, to keep up with all the upcoming events!
The Lion and Rose Pub (Broadway)
5148 Broadway
San Antonio, TX 78209
Tuesdays: 8:00 PM
View All Posts

Comment Now

11:29 AM, April 08, 2015

Scores

Chappie Gilmore

70

---

3 MCs and one BAR & Jew Boy

68

---

Not Penny's Boat

65

---

Never Gonna Feel You Up, Never Gonna Touch You Down

64

---

Bland Paul

61

---

Pistachio & Clan

50

---

Please, Not Like This

43

---

C & C

41

---

Asheigh Oxide

32

---

Alright, Alright, Alright

30

---

Team Sammie

14

---
Gremlins: The Christmas Special
So many teams... Swimming in teams and ridiculousocity.

I loved it.

Before we get to the recap, lets get this squared away.

Listen, I know it's Tuesday night at a pub. Spurs play Tuesday nights. This isn't some government conspiracy to interfere with the Black and Silver winning. I promise. But there really is no need to be a complete asshat to those trying to enjoy something other that basketball. Sure, it may not be a traditional sport, but quizzing is a mental challenge...
And occasionally a physical one when I feel like being a tool and watch you guys dodge tables and round corners to get the bonus questions in. Speaking of bonus rounds, has no one taken a look at your bonus tokens? I spent a good 2 1/2 minutes finding that image. It was painstaking, searching through the internet for that. YOU'RE WELCOME.

In any case, please, DO NOT SHOUT OUT ANSWERS. It really is the epitome of doucebaggery, and no one likes it. Especially with such a simple answer. It really does make you look like an absolute idiot. And guys who are playing, I apologize for the Philistine Frat Boys who may or may not have actually known where the Andes Mountains are.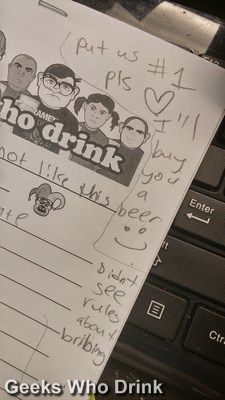 Also, you are right, Please Not Like This, it doesn't say anthing in the rules about bribing. I will award you with a Participation Title. I will not accept your bribe however. But, you are more than welcome to buy me a beer next time. :D


Let's get to the Quiz Recap shall we?

We had a great turnout, and the night started off really well with everyone pretty much acing the first round. Congrats guys, you remember alliteration.

Next up we had our audio round with songs featuring Tv Show Names. I am surprised how many of you guys can't distinguish between Michael and Janet Jackson. Granted at the end, the King of Pop did look more like LaToya than Janet, but that is neither here nor there. 5 Stars to those teams that got that one right.

The only think I have to say about our City round... is that Hawaii is not a city, nor was it even a state until 1950. Guys, you're killin' me.

Let's take a moment to talk about the Visual Round. 6 teams thought number one was something involving Santa Claus. Not every bearded white guy is Santa. This is Fictional Character Stereotyping. I think there might actually be laws against it. The correct answer was Gremlins. Although at that point, I would have accepted Gremlins: The Christmas Special.
And a special shoutout to Team Sammie for being the only team to guess all 3 correct elements. Elementary, my dear Sammie!
Job well done to Chappie Gilmore, taking first place with 70 points. Taking second we had 3 MC's and one BAR & Jewboy with 68 points (I apologize for the complete bastardization of your name on multiple occasions), and rounding out the night was Not Penny's Boat with 65 points.

I hope to see you guys all next week at 8 PM sharp. I promise.

Make sure you guys check out the main kahunas webpage, Twitter, and Facebook.

You can also follow my twitter, if you choose. Often it's the opposite of what you might expect. Some delicious Mexican candy if you can guess the reference.

See ya'll soon!